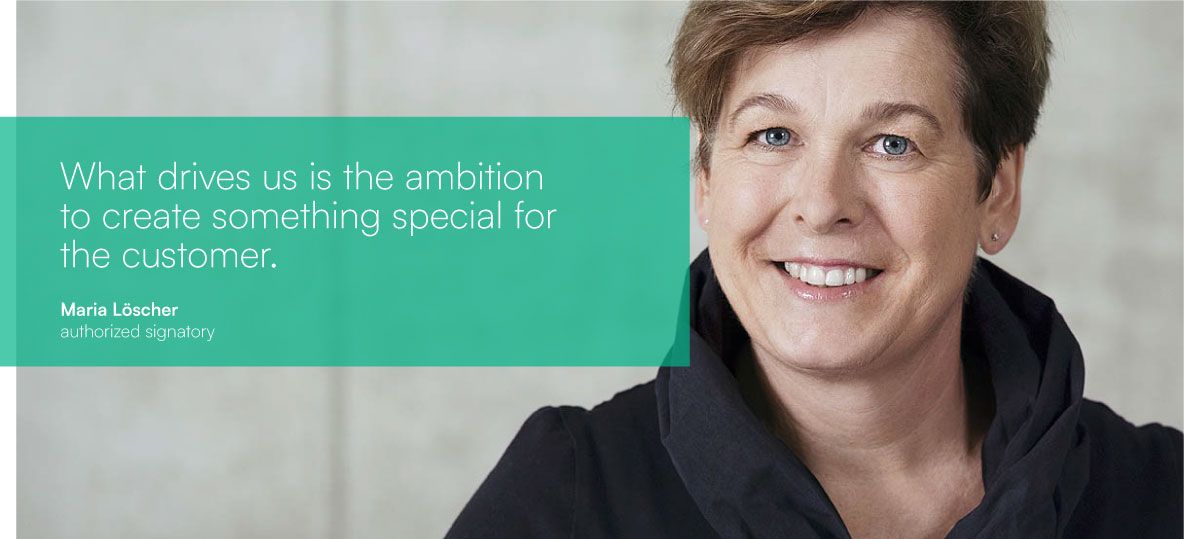 For this we work
We are We
As a family business, we know: Together we are more. That's why every employee is of great value to the company - regardless of his or her task or position. Trust, commitment and honesty are a matter of course for us. And we live these values in our day-to-day work. Our customers also appreciate this, because it makes us a reliable partner you can always count on.
Löscher makes it possible
What others need weeks for, we manage in just a few days. We love the challenge and make feasible what others doubt. This has already earned us the reputation of being an emergency anchor: Because for us, top quality and efficiency are not a contradiction in terms, but rather our drive to give our best for our customers. Always.
One for all
We help not only in the development, but already in the planning of your product and bring in our knowledge where you need it. This is how one or the other prototype has already been created at Löscher. Our employees appreciate this versatility, because it presents exciting tasks. As a company, this makes us a flexible partner for the most diverse requirements.
On principle
Family values have a long tradition with us. That's why we prefer sustainable growth to the pursuit of quick profits. This secures jobs and creates a healthy environment for our employees. For 25 years, this attitude has made us a successful and stable factor in the region. As entrepreneurs and as a family, we are proud of this.
Mission statement
Mission
The quality of our products is the most important thing for us and our customers. That is why no product leaves our company that has not been tested. Our employees are our success factor! That is why we are not only a training company, but also support our employees with further education and training. Only through constant improvement we can meet the growing demands of our customers. All employees are involved in the continuous optimization process. The preservation of the environment is very important to us! That is why we recycle or reuse waste. Furthermore, we use recyclable packaging in order to reduce waste. To save energy we go the way of a self-supplier.
Vision
Through our flexibility, adaptability to order changes and adherence to deadlines, we will expand our market position and become a market leader in our niche. Through our continuous improvement processes and innovation efforts, we want to extend our customers' lead and maintain their market leadership. Due to constant modernization and investments we are a safe and attractive employer. Through the careful and sustainable use of resources as well as the use of renewable energies in our company, we take on an exemplary role.
Quality

No delivery without testing
The quality of our products is the most important thing for us. Depending on the requirements, we also carry out product-specific spot checks within the production process. For sophisticated components and assemblies, we also carry out 100% electrical function tests. All products (cables, semi-finished products, finished devices...) are still subjected to an output test before delivery.
Thus we guarantee our customers our international quality standard and all our products leave our premises quality-tested.